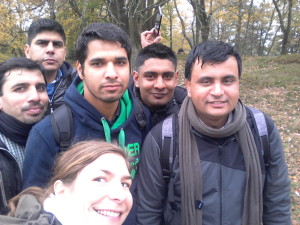 Wandern im Taunus – eines unserer ersten Get Together Events
Willkommen bei "Get Together" von ShoutOutLoud. Neue Leute in einer Stadt kennenzulernen ist nicht einfach, vor allem, wenn man aus einem anderen Land kommt. Aus diesem Grund möchten wir Menschen mit gleichen Hobbies zusammenbringen, z.B. Fifa zocken, Schwimmen, Kochen, Wandern und so weiter – die Möglichkeiten sind groß!
Hat man sich ein paar Mal getroffen, ist man sich nicht mehr fremd. Freundschaften und persönliche Kontakte entstehen, die weit über das eigene Hobby hinausgehen können.
Die Gruppen werden über die Facebook Gruppe SOL Get Together organisiert, weil es derzeit das einfachste Medium ist, sich schnell und einfach zu verabreden. Einfach Zutritt in die Gruppe anfragen und schon seid ihr dabei!
Momentan haben sich schon folgende Gruppen ergeben:
Kochen (Anna Schön)
Schwimmen (Johannes Bethcke)
Fifa zocken (Kenan Bozhüyük)
Fußball spielen (Kenan Bozhüyük)
Joggen (Georg Kunzfeld)
Sprachtandem (Johannes Bethcke)
Mountainbiking (Kenan Bozhüyük und Anna Schön)
Wandern (Anna Schön)
Wendet euch an den jeweiligen Betreuer des Hobbies, um Genaueres zu erfahren.
Gerne könnt Ihr auch selbstständig einen Post schreiben – auch zu Hobbys/Aktivitäten, die hier noch nicht zu finden sind, die ihr starten wollt oder auf die ihr Lust habt. Bietet ihr Termine an, packt Zeit und Ort dazu.
Achtung: ShouOutLoud übernimmt keine Haftung, wenn etwas während der Aktivitäten passiert – wir stellen hier lediglich die Plattform und Organisation bereit, damit sich Menschen verabreden können. Viel Freude beim Kennenlernen!
**Welcome to "Get Together" by ShoutOutLoud. Getting to know people in a new city is not easy, especially when you come from another country. Therefore, we want to connect people who share the same hobby, like playing Fifa, cooking or swimming etc.
If you have met a couple of times, your hobby mate will not be a stranger anymore. Friendships and personal contacts emerge – going beyond the hobby group!
Currently, the following hobby groups exist:
Cooking (Anna Schön)
Swimming (Johannes Bethcke)
Playing Fifa (Kenan Bozhüyük)
Football (Kenan Bozhüyük)
Running (Georg Kunzfeld)
Language Tandem (Johannes Bethcke)
Mountainbiking (Kenan Bozhüyük und Anna Schön)
Hiking (Anna Schön)
Just contact the tutor of the respective hobby to learn more.
You can also create a post in this group – like to a new hobby/activity which does not exist here, yet. If you want to offer an activity, post a date and place.
Note: ShoutOutLoud is not liable/responsible if something happens during the activities. We just provide this plattform and some organisation! Enjoy getting together!**